Uplift Values On Truss Design Drawings
Question:
I am a building inspector and I have a question on information provided on truss design drawings. What does the uplift reaction number represent? Some manufacturers are very specific and state "to provide for mechanical connection of the truss to the top plate with a connector capable of withstanding a specific load." Others simply list the uplift reaction with no further information. These are the ones that have caused a debate as to what the number actually represents. Some say the uplift is a net number to size a connector to, and others say it is a gross number that can be reduced and a lower rated truss connector used. Unless the engineer can provide calculations and be willing to "stamp" the calculations, we have stood by the uplift load listed, as the load to size the connector to.
Answer:
We contacted the plate manufacturer members of the Truss Plate Institute's Technical Advisory committee and asked what their listed uplift forces represent. The answer to the question, "Does the listed uplift force represent the resistance for which the connection needs to be designed?" is YES. The reaction data is the worst case at each support considering all the loading the truss was designed for. It is a net uplift. The consensus is that they do not know how one would go about reducing the uplift reaction number. The confusion might stem from the fact that designers may use different methods to calculate the uplift. The same truss could have different uplift reactions depending on which method is used. As always, if you have any questions concerning the engineered calculations on the truss design drawing, you should contact the engineer sealing the design.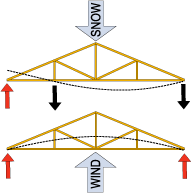 UPLIFT REACTIONS CAN OCCUR WITH GRAVITY
LOADS ON MULTIPLE BEARING TRUSSES
OR WITH HIGH WIND CONDITIONS.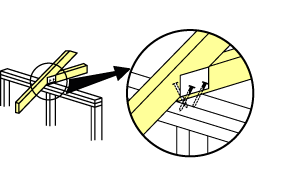 THE CUSTOMARY TRUSS-TO-BEARING CONNECTION
OF THREE TOENAILS MAY NOT DEVELOP ENOUGH
RESISTANCE FOR THE CALCULATED UPLIFT REACTION
SBCA Categories: