Scissors Truss Diagonal Bracing
Question:
We are finding it difficult to design permanent diagonal bracing for scissors trusses. The truss is often only a few feet in depth, which does not provide adequate room for diagonal bracing. Has SBCA come up with recommendations for permanent bracing of scissors trusses?
Answer:
John Meeks, P.E., recommends using floor truss style bracing. One option is to use strongbacks at the king post (center vertical web). This is something that the building designer needs to verify and design, as described in SBCA's BCSI-B7 Summary Sheet.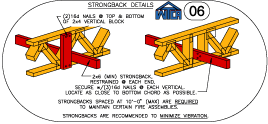 STRONGBACK BRACE INSTALLED ON A FLOOR TRUSS
SBCA Categories: