Fire Safety Advocates Use Homebuilder to Promote Sprinklers
Originally published by: Builder Online — January 7, 2017

The following article was produced and published by the source linked to above, who is solely responsible for its content. SBC Magazine is publishing this story to raise awareness of information publicly available online and does not verify the accuracy of the author's claims. As a consequence, SBC cannot vouch for the validity of any facts, claims or opinions made in the article.
Editor's Note: The following article is a paid-for placement by the National Fire Protection Association (NFPA), and was originally published in the NFPA Journal.
To learn about the benefits of installing fire sprinklers, just ask a home builder.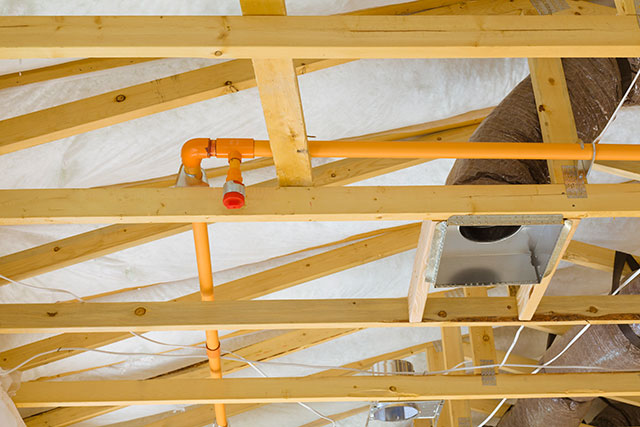 Sam Davis, a home builder in Florida, is a strong believer in the value of sprinklers. Over the years, he's installed sprinklers in dozens of homes and takes every opportunity to educate his clients about how sprinklers can protect their families from fire.
"Fire sprinklers do save property, but their main function is to save lives," he says. "I hope it never happens, but I'm waiting for the day when I get a call from a homeowner who tells me that their sprinklers activated and saved someone's life. Home fire sprinklers are well worth the investment."
One of the most persistent myths about home fire sprinklers relates to cost. In reality, the cost of installing sprinklers in new construction is minimal—and dropping. "The cost to home builders, in dollars per sprinklered square foot, averages about $1.35," says Lorraine Carli, vice president of outreach and advocacy for the National Fire Protection Association (NFPA). That figure includes all associated costs, including design, installation, permits, additional equipment, and water meter fees.
An NFPA report found significantly lower costs in California and Maryland, the two states that require sprinklers. Moreover, sprinkler installation requirements are also proven to have no measurable impact on the pace of housing construction or home prices relative to comparable nearby communities without sprinklers ordinances.
Trade-up options
Builders can also take advantage of the many trade-ups associated with installing sprinklers. Trade-ups can reduce land development costs for developers, reduce construction costs for builders, and reduce the cost of increased life and property protection for home buyers.
The cost of developing raw land into an approved building site can be significantly reduced through trade-ups. These options are only applicable if all the buildings in the development will have built-in automatic fire protection. Common trade-up options associated with home sprinklers include: 
Street width reduction, which can substantially reduce the amount of pavement in every linear foot of street in the development
Longer dead-end streets, which allow additional building lots to be accessed
Tee turnarounds, which can create at least one additional lot per cul-de-sac
Increased street grades and building setbacks
Additional units; increases up to 20 percent are not uncommon
Water supply reduction: Fire flows for fully sprinklered developments can be greatly reduced compared to non-sprinklered developments
Increased hydrant spacing and reduced supply mains
Another option to explore is building code alternatives, which might include a reduction in fire-rated portioning requirements between the living spaces of the home and other spaces, such as an attached garage.